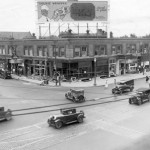 University Avenue is a story about people and ideas, hopes and dreams. Since the beginning, the street has been shaped by people determined to turn their dreams into reality.
In the 1880s, James J. Hill had the idea to consolidate nine separate railroad lines serving the area, creating a massive transfer yard to facilitate the exchange of freight. The Minnesota Transfer helped make Saint Paul a major hub in the national railway system and led to the establishment of the Midway industrial corridor. A few years later, Thomas Lowry created a private streetcar system that grew to include 500 miles of track. University Avenue was the spine of the system, and 700 streetcars were made at Lowry's shops at Snelling and University.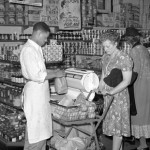 In the 1940s, radio broadcaster Stanley E. Hubbard had the vision to invest in a new invention called television at a time when most people thought it had little chance of succeeding. In 1948, KSTP-TV went on the air, becoming the first television station in the Upper Midwest. KSTP's tower and studios were built on University Avenue, right on the city line between Minneapolis and Saint Paul.
Starting in the 1980s, thousands of immigrants from Southeast Asia, East Africa and other countries began living out their dreams by starting their own small businesses along the avenue. Most of them started with little more than their own determination, overcoming every obstacle that was put in their way. Today, the new Green Line light rail is inspiring new investment in the avenue and providing easier access to housing, jobs and opportunities along the corridor and beyond.
Images © Minnesota Historical Society