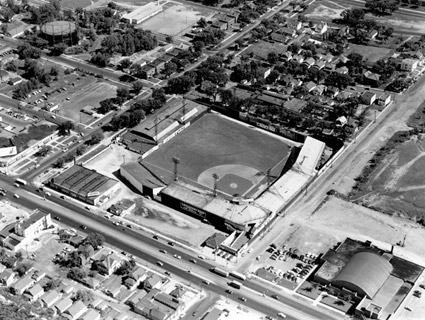 Aerial view of Lexington Ball Park, ca. 1930. © Minnesota Historical Society


University Avenue means different things to different people. It's always been eclectic, unruly, noisy, gritty. And the street has seen its fortunes rise and fall over the decades. But its purpose has always been the same: to provide a vital link between Minneapolis and Saint Paul for people and commerce. During the first half of the 20th century, it was a thriving commercial corridor, defined by places like the Minnesota Transfer Railway, Montgomery Ward, Brown
& Bigelow, Lexington Ballpark, Prom Ballroom, and the popular streetcar. The 70s and 80s were not as kind to University, as new freeways and suburban development ushered in a period of slow decline. More recently, thousands of immigrants began living out their hopes and dreams, raising their families and opening hundreds of small businesses. Today, those businesses are facing new challenges as the Central Corridor light rail project transforms the street once again.
WHERE TO WATCH THE FILM
The program premiered on tpt2 in December 2012 and has aired several times on tpt2, tptLife and tptMN in March 2013. Check the tpt program schedule at tpt.org for future broadcast dates.
DVDs are available for purchase through the Minnesota Historical Society online store.
You can also watch it online by clicking the "video" link.
Produced by Myers Communications Group in partnership with Ramsey County Historical Society and tpt.
NEWS STORIES
St. Paul Pioneer Press, 10.25.12
Listen to the MPR story aired 11.15.12
St. Paul Monitor feature story, November 2012

University Avenue: One Street, a thousand dreams is a Minnesota Partnership co-production of Ramsey County Historical Society and Twin Cities Public Television. Funding is provided in part by the State of Minnesota from the Arts and Cultural Heritage Fund through the Minnesota Historical Society. Additional funding is provided by the F. R. Bigelow Foundation, Huss Foundation, Sewell Family Foundation, Art & Martha Kaemmer Fund of HRK Foundation, Myers Foundation, Bill & Susan Sands, Park Midway Bank, Western Bank, and Dick & Nancy Nicholson